Télécharger 3DMF Viewer
Note utilisateur :





(0)
Il n'y a pas encore de votes… Soyez le premier!
You want to view 3D objects in 3DMF files? You want to be able to compose 3D worlds with several objects? You want to be able to manipulate each object independently from each other? You want to be able to move freely in the 3D world around your objects? Then 3DMF Viewer is what you need! 3DMF Viewer allows you to view interactively and move freely through 3DMF objects. - You can open individual 3DMF files with an open dialog window or by dropping them on the viewer window. - You can view several 3D objects at the same time in a 3D world made of 3D objects loaded from several 3DMF files. - You are not limited to move around the objects and face their center but you can move freely in any direction as if you were visiting the 3D world. - You can select and manipulate the camera as well as all other individual objects in the 3D world. - You can view and edit the position, orientation and scale of the camera and the objects. - You can save and open the scenes you've created. - You can change the background color, the ambient light color and the flood light color. - You can turn on/off wireframe rendering, fog rendering and back faces rendering. - You can set the near rendering plane and far rendering plane distances. - You can set the ambient light brightness and flood light brightness. - It doesn't need any installation which makes it very easy to use. - It is available in Dutch, English, French, German, Italian, Simplified Chinese, Slovenian, Spanish, Traditional Chinese and many other languages. Read the whole documentation for more details...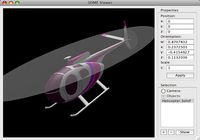 Nombre de téléchargements :
12
Disponible en français ? :
Oui
Télécharger la dernière version :
5.3