Télécharger DJ Mixer Professional for Mac 3.6.8
Note utilisateur :





(0)
Moyenne exprimée sur 2 nombres de votes
DJ Mixer Professional for Mac is the leading-edge and versatile DJ/VJ software that allowing you to create complex music and video mixes on the fly. this version featuring four DJ decks with professional grade mixer and playlists. This software has been developed mainly for professionals, to use and experiment advanced DJ techniques. whether you're mixing audio, music, video, or even karaoke files DJ Mixer 3 Pro gives you full control over your media allowing you to release your creativity to make every mix differents. DJ Mixer Pro includes all the professional features a real DJ needs. such as one-click beat matching, video mixing, automatic tempo and beat detection, real-time Sampler, seamless and beat LOOP functionality, VST effects, Vinyl simulation, time-stretching, Karaoke CDG+MP3 and/or ZIP support, Up-to-Date MIDI and HID controllers support, MIDI learn, Seamless iTunes integration and much more. Best of all, DJ Mixer Professional has an intuitive user interface, closely resembling a real-world mixing board, that makes it easy to set and save multiple loops and cue points in a track. Fully compatible with Mac OS X 10.12 macOS Sierra.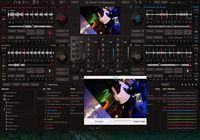 Nombre de téléchargements :
307
Disponible en français ? :
Non
Télécharger la dernière version :
3.6.7