Télécharger World of Warcraft
Note utilisateur :





(4.5)
Il n'y a pas encore de votes… Soyez le premier!
World of Warcraft est un MMORPG disponible sur Mac. Il vous propose d'incarner un personnage et de le faire évoluer dans un monde persistant en faisant des quêtes et franchissant des donjons. Avec plusieurs millions d'abonnés, World of Warcraft reçoit régulièrement des mises à jour ainsi que des extensions qui ajoutent de nouvelles zones, de nouvelles classes mais aussi de nouveaux challenges.
L'histoire vous envoie dans le monde d'Azeroth ou plusieurs races se sont regroupées en deux factions : l'Alliance et la Horde. Une dizaine de classes dont disponibles allant du mage au voleur en passant par le druide, le démoniste ou encore le prêtre. Chacun dispose de compétences propres qu'il faudra savoir utiliser en coopération avec les autres joueurs pour créer des groupes équilibrés.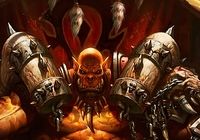 Nombre de téléchargements :
23
Disponible en français ? :
Oui