Télécharger League of Legends
Note utilisateur :





(4.5)
Moyenne exprimée sur 3 nombres de votes
Entrez dans l'arène et prenez part à des combats gigantesques dans League of Legends. A mi-chemin entre le Tower Denfense et le jeu de stratégie, il vous immerge dans un univers fantastique où vous devrez éliminer le Nexus et détruire les défenses de votre adversaires. Pour cela, vous pourrez choisir votre héros parmi 40 personnages différents dont le robot, l'archère ou encore la sorcière. League of Legends est avant tout un jeu d'équipe dont la majorité des parties se jouent 5 contre 5. Au fil des victoires, vous gagnerez des points que vous pourrez utiliser dans trois arbres de compétences bien distincts : utilitaire, défense et attaque. Totalement gratuit, ce MOBA fonctionne sur un principe de roulement hebdomadaire de personnages pouvant être utilisé. Ainsi, pour conserver un personnage il faudra payer entre 5 et 10$ ou accumuler des points d'influence. Par ailleurs, League of Legends nécessite la création d'un compte sur le site du jeu lui-même.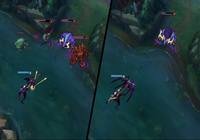 Nombre de téléchargements :
286
Disponible en français ? :
Oui
Télécharger la dernière version :
1.0.0