Télécharger Keystrokes Pronouncer
Note utilisateur :





(0)
Il n'y a pas encore de votes… Soyez le premier!
You want your Mac to pronounce each key you press on your keyboard? Then Keystrokes Pronouncer is what you need! Keystrokes Pronouncer allows you to hear each pronounceable key you press on your keyboard. - It pronounces the pronounceable keys you press on your keyboard. - It doesn't need any installation which makes it very easy to use. - It is available in Dutch, English, French, German, Greek, Italian, Latvian, Spanish and many other languages. Read the whole documentation for more details... Version 7.0: - A full recompilation has been made to be compatible with El Capitan and Sierra, and as Universal Binary to keep being compatible with both old (PowerPC) Macs and recent (Intel) Macs. - The "How to intall it?" paragraph of the documentation has been updated to explain how to install and launch the Application in particular under Mac OS X 10.8 Mountain Lion, 10.9 Mavericks, 10.10 Yosemite, 10.11 El Capitan and 10.12 Sierra.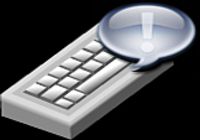 Nombre de téléchargements :
5
Disponible en français ? :
Oui
Télécharger la dernière version :
7.1