Télécharger Get File Path
Note utilisateur :





(0)
Il n'y a pas encore de votes… Soyez le premier!
You want to be able with a single drag and drop or a single click to get or copy in the clipboard the path of a file or a folder? You don't want to send full files to your colleagues by email but just a link in order to work on the same documents and not on copies? Then Get File Path is what you need! Get File Path allows you to copy to the clipboard the path of a file or folder dropped on it, after automatic application of various programmable transformations. - It works with any kind of file (applications, documents, folders, ...). - It uses pattern matching to copy and transform the name, and/or the path, and/or the parent folder path of the dropped file. - It can automatically insert other characters and tags during the copy, which is useful to create links for example. - It remembers the last pattern used. - It can automatically resolve aliases (files and paths). - It can use Unix paths as well as Mac paths. - It can copy the result to the clipboard or to an edit field. - It can automatically replace blank spaces by %20 in the paths. - It can automatically quit afterwards. - It doesn't need any installation which makes it very easy to use. - It is available in Dutch, English, French, German, Italian, Spanish and many other languages. Read the whole documentation for more details...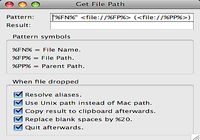 Nombre de téléchargements :
31
Disponible en français ? :
Oui
Télécharger la dernière version :
8.1