Télécharger Internet Connection Keeper
Note utilisateur :





(2.5)
Il n'y a pas encore de votes… Soyez le premier!
You are tired of being disconnected by your internet provider? You don't want your internet provider to disconnect you when your internet connection is idle? You want to stay connected even when you are away and don't use your connection for a long time? Then Internet Connection Keeper is what you need! Internet Connection Keeper allows you to keep your internet connection alive so that your internet provider does not disconnect you. - It automatically sends a few bytes to your internet provider regularly so that it does not disconnect you when your connection is idle when you don't use it. - It does not use your bandwidth because it sends only a few bytes at configurable regular intervals. - It tells you if the last attempt to keep your connection alive succeeded or failed. - It appears in the right side of the menu bar. - It doesn't need any installation which makes it very easy to use. - It is available in Dutch, English, French, German, Italian, Portuguese and many other languages. Read the whole documentation for more details...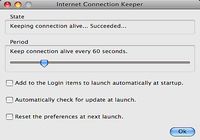 Nombre de téléchargements :
324
Disponible en français ? :
Oui
Télécharger la dernière version :
8.1